This topic is designed to help with the process of setting up a photo hosting account with Photobucket and how to insert your photographs into your forum posts.
From time to time Photobucket change their software. This guide is based on the AUG2015 version.
Before you upload any photos, use your PC picture viewer to rotate them so they are the right way round. DONT do this within Photobucket as the computer cache will often confuse the actual alignment with the screen view.
Photobucket is a free photo hosting site. There are others available which work similarly. These instruction use illustrations from Photobucket as viewed on a PC
If you don't have a Photobucket account then navigate to
http://s115.photobucket.com
and register.
Login to your Photobucket account and search for the UPLOAD button.
Follow the instructions to upload your photos. You can use drag and drop onto the blue dotted rectangle or use the blue button and navigate to each photo on your computer if you prefer.
If you have lots to do, open up a second window on your screen with all your photos in it like this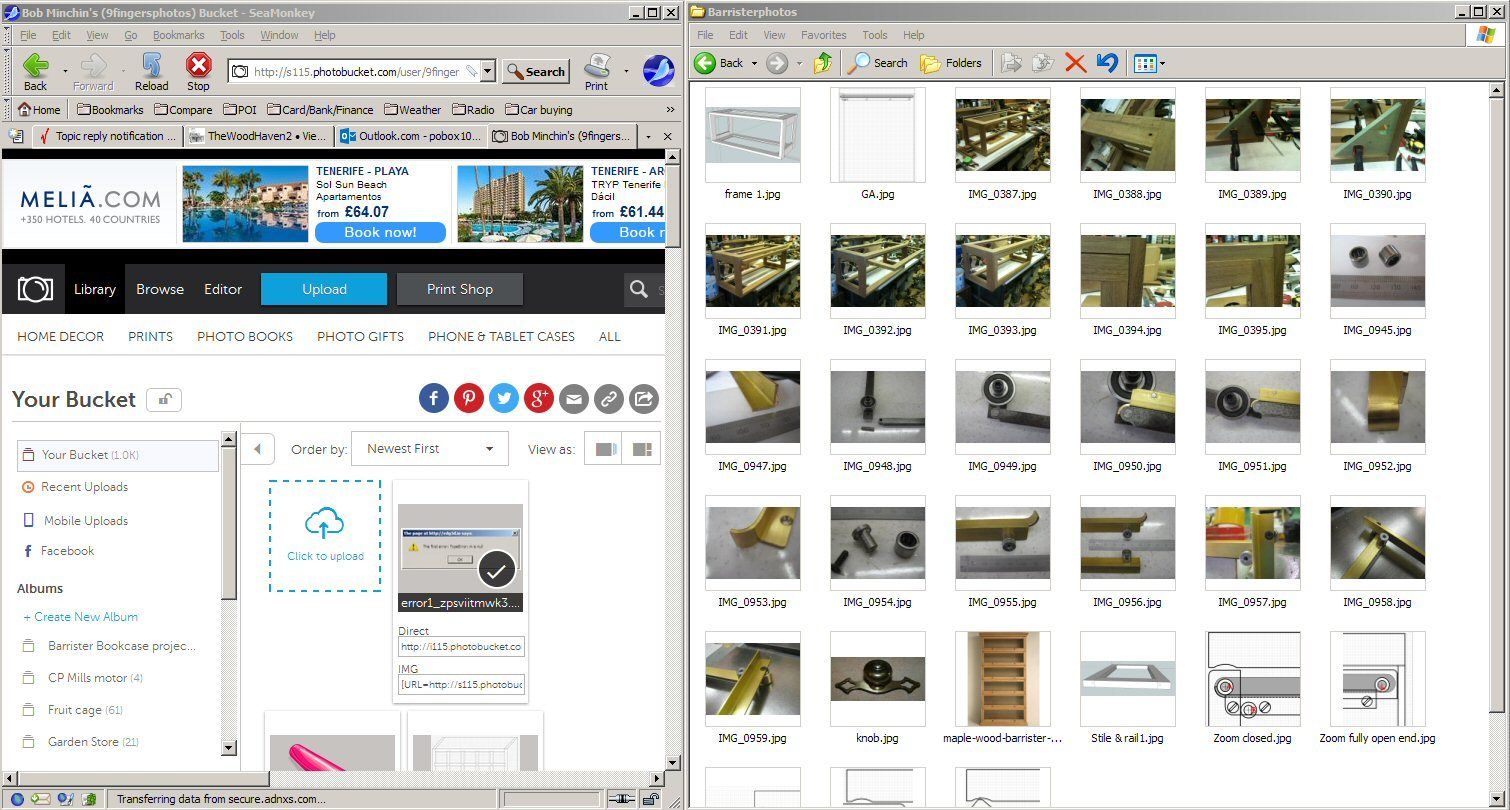 Now you can do multiple selections (control right mouse click) and drag them into photobucket.
Wait until they have all uploaded.
Upload all the photos that you will need for your forum write up. You may care to put them in a project related album if there are a lot.
If this is your first time with Photobucket,
After completing the upload, navigate to the thumbnail view of your photos and look for the gear wheel symbol on the right.
Click on this and set the link options as in the photo below
Return to your album of thumbnails and each photo should look like this
with two links underneath. I you want to give a link to someone else so they can look at the photo, copy the top one but for the forum, copy the lower one marked IMG
Thanks to Andy P for prodding me to look at this option which makes it much easier.
Open a second window in your browser and navigate to the area of the haven where you want to post.
After starting your text and getting to the place you want a photo, press enter and switch to the other window and click the mouse on the IMG tag, copy the link
Switch back to the forum post in progress and paste in the link. Press return and continue with your text entry.
When you have finished post the message to the forum as usual and the image tags will be replaced by your photos, resized if necessary to fit the forum format.
At any stage, you can press preview at the bottom at the message entry box and check you have the correct photo in relation to the text. If not corrections can be made.
Hope this helps
Bob